Solution
Neurotechnology
Battelle helps transform your neurotechnology and bioelectronic medicine innovations into market-ready solutions. Our experts help you solve your problems, manage your risks and accelerate your development timelines– from market insights and discovery, through concept to FDA registration.
Connect With an Expert
A Trailblazer in Neurotechnology Product Development
Battelle works at the intersection of neuroscience and engineering to develop novel devices that help people overcome devastating neurological damage and disorders. Our experts are pioneers in the delivery of enhanced brain function customized for each individual.
The World's Best Academic Leaders
Our Neurotechnology team has 7 PhDs and 3 Masters with a combined total of 131 publications:
48
Publications on Decoding
35
Publications on Modulation/Sensing
45
Publications on Stimulation and Rehabilitation
3
Publications on Behavior
How We Make the Impossible Possible
We turn complex brain signals into accurate information for innovative neurodiagnostics using neural signal processing and data analysis technology.
We employ advanced biomedical and mechanical engineering to develop groundbreaking neural bridging technologies for patients with spinal cord injuries, traumatic brain injuries, stroke victims, and other types of sensory-motor rehabilitation.
Our award-winning rehabilitative technologies accelerate recovery from traumatic brain injury (TBI). We design solutions that provide both tactile manipulation of real-world objects, immediate feedback, and error correction using closed-loop biofeedback technique.
We help you build better, smarter health devices by combining world-class medical sensor engineering with advanced data analytics. Leveraging advanced machine learning and pattern recognition, we extract small, key signals from a sea of background data.
Battelle NeuroLife® Technology
Battelle's NeuroLife® wearable sleeve showcases our neural bypass expertise in developing life-saving products. For the first time ever, this brain-computer interface (BCI) technology allows us to measure the nerves and muscles of the body in real time with high resolution. The result is targeted stimulation interventions that recreate complex, dexterous movements.
Explore NeuroLife®

Disclaimer: This is an investigational device, it's not commercially available, and it has not been cleared or approved by the FDA. Results shown are from studies performed.


World-Class Transformative Solutions
Battelle can turn your idea into a reality. With nearly 4,000 patents and 400+ R&D 100 Awards, we know how to help organizations eliminate disruptive product development hurdles and reach new markets. Battelle provides quick, agile, and reliable services during the commercialization process, with a 100% FDA submission success rate for human centric design work.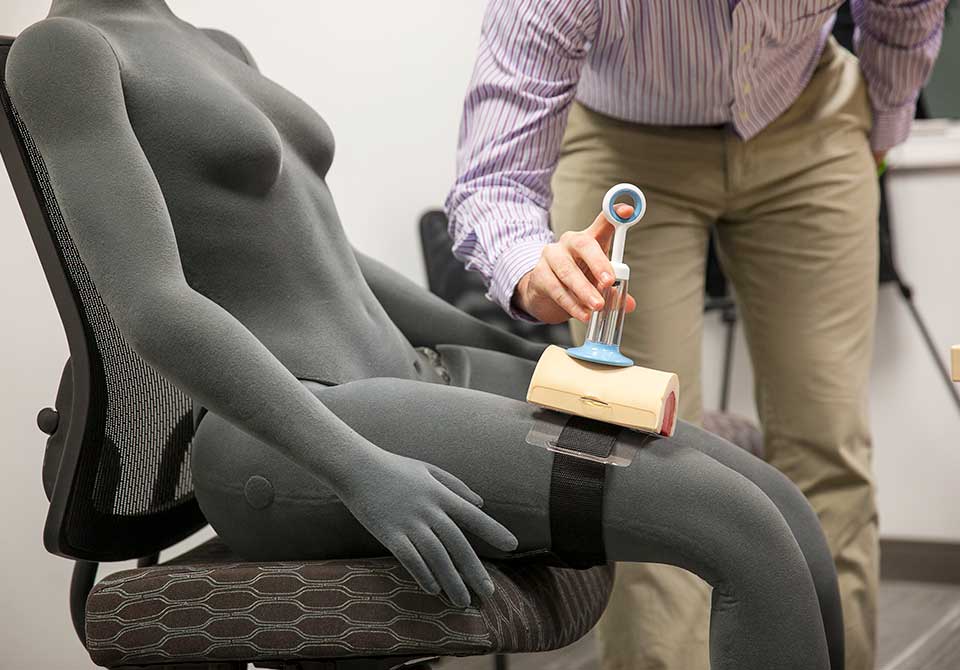 Sam Colachis
Position :
Biomedical Engineer
Colachis focuses on developing assistive technologies that improve the quality of life for individuals with physical or cognitive challenges. He is a key member of the Battelle NeuroLife® program and played a major role in the development and clinical execution of a neural bypass technology that restores conscious control of the fingers and hands to individuals with spinal cord injuries.
Transformative Solutions
We combine deep knowledge, world-class expertise, and specialized facilities to develop disruptive products that solve challenging problems.
explore transformative solutions
Medical Device Solutions
From concept innovation and human centric design of new products, to device commercialization, and more, Battelle forges the path for medical device development.
explore medical devices