Samin Raziperchikolaee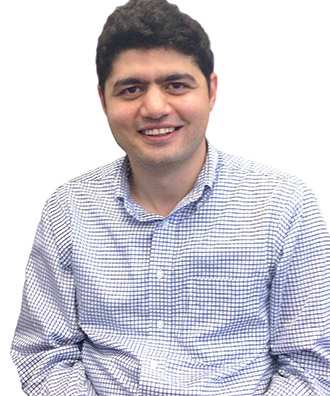 Samin Raziperchikolaee is bringing the mysteries of the subsurface to light. A Research Scientist on the Battelle Oil & Gas team, Samin applies geomechanical modeling to evaluate the risks of fluid injection and deep geologic sequestration. His work is helping Battelle's oil & gas clients make better decisions for hydraulic fracturing, Enhanced Oil Recovery (EOR) and subsurface resource management.
Since joining Battelle in 2014, Samin has worked on projects related to carbon (CO2) sequestration, brine disposal and shale gas production. Using data from researchers in the field, he builds computer models of the subsurface and runs simulations of various fluid injection scenarios. These geomechanical models can be used to evaluate specific risks such as wellbore enlargement or collapse, induced seismicity, surface uplift or caprock fracturing. He also builds models to predict hydrofracturing geometry for optimization of hydraulic fracturing parameters.
Samin is currently working on a joint industry project in the Utica Shale region (Cyclic Gas Injection for Stimulating Oil Recovery in the Liquid-Rich Regions of the Utica-Point Pleasant Shale). For this project, he is building models that couple geomechanical and fluid flow modeling in order to help clients optimize shale gas production. He is also involved in projects related to CO2 sequestration. One such project, funded by the Ohio Coal Development Office (OCDO), focuses on identifying suitable injection zones for long-term CO2 storage in the Appalachian Basin.
Prior to joining Battelle, Samin earned his Ph.D. in Petroleum Engineering with a focus on Petroleum Geomechanics from the University of Wyoming, where he also served as a graduate assistant. For his thesis, he built new geomechanical models to predict fracture potential and surface uplift during fluid injection. During his Masters program, he built models of wellbore stability. As part of this work, he developed a standalone software program for selecting the optimum drilling bit and mud window to avoid wellbore instability. He has contributed to numerous peer-reviewed publications, including a publication on geomechanical effects of CO2 sequestration inApplied Energy: " Effect of hydraulic fracturing on long term storage of CO2 in stimulated saline aquifer."
In the future, Samin plans to continue to expand and refine Battelle's geomechanical modeling capabilities. He sees opportunity in continued work on induced seismicity as well as in new areas such as modeling the risks of offshore methane hydrate production. One example of his work on induced seismicity was recently published in The Leading Edge: "Modeling pressure response into a fractured zone of Precambrian basement to understand deep induced-earthquake hypocenters from shallow injection."
In addition to his PhD., Samin holds an M.S. in Petroleum Engineering from Amirkabir University of Technology-Tehran Polytechnic.