Battelle, National Laboratories Convene Nation's Experts to Accelerate Solutions at Conference on Innovations in Climate Resilience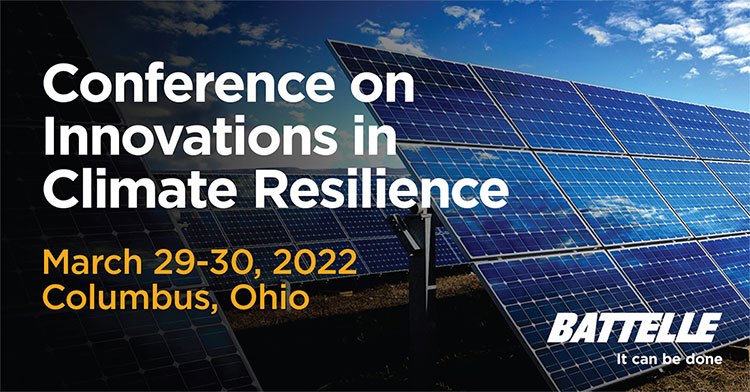 COLUMBUS, Ohio (Nov. 17, 2021)—The Conference on Innovations in Climate Resilience , presented by Battelle in collaboration with the Department of Energy's (DOE) national laboratories, will host the nation's leading minds in climate change and resilience in Columbus, Ohio, March 29-30. The first-ever event is a curated technical program that focuses on solutions and will include invited keynote presentations, platform and lightning talks and a poster reception.
The conference is expected to attract an audience of 800 government leaders, entrepreneurs and technology innovators who will explore breakthroughs in technology and policy that will help mitigate the threats from a changing climate to our environment, health, communities, national security and economic well-being.
"We are taking an innovative approach to bring together topics and entities that don't typically come together, such as environment, health, national security, agriculture, infrastructure, and community economic well-being," said Battelle Technical Fellow Justin Sanchez. "And it's the combination of all these connected topics that is a lynchpin to our pioneering approach," he said.
Following the high-profile discussion of climate resiliency with the COP26 global gathering and the Biden Administration's Net Zero goals and bipartisan infrastructure bill, conference organizers and the scientific community are rallying to present real solutions.
"We are leaders in climate resiliency, and we intend to take the rare approach of collaborating on and presenting real, actionable solutions that have impact," said Mark Peters, Battelle's Executive Vice President for Global Laboratory Operations. "We've heard loud and clear from the government and other stakeholders that this is a priority, and we're joining forces with the public and private sectors and academia to step up."
Technical Program Overview
Climate resilience is focused on developing solutions to climate change. The technical program offers scientists and researchers an opportunity to join the community working at the forefront of innovations that reduce the impacts of climate change by restoring our ecosystems, by enabling adaptation of our built infrastructure and societies or by dramatically reducing the trajectory of causative factors.
Early-Bird Registration is available through Jan. 24, 2022.
News Media may register here.
Abstract Deadline is Dec. 6, 2021. The Call for Abstracts is now available >
The program will emphasize field applications, case studies, technology solutions and test beds, but submissions on fundamental research and modeling studies are also encouraged.
The technical program will be organized around the following major themes:
International Climate Risk Analysis and National Security
Resilient Infrastructure: Energy, Water, Communications, Transportation, and Building
Nexus of Resilience and Ecosystem Restoration: Carbon Capture, Circular Economy, Water, and Land
Health Resilience, Risks, and Interventions
Innovations in Climate Resilient Food and Agriculture
Themes will be further refined and finalized after the abstract submission review conducted by the Technical Program Committee.
Additional information about the event will be added to the website as planning continues. Send inquiries to climateconf@battelle.org.
About Battelle
Every day, the people of Battelle apply science and technology to solving what matters most. At major technology centers and national laboratories around the world, Battelle conducts research and development, designs and manufactures products, and delivers critical services for government and commercial customers. Headquartered in Columbus, Ohio since its founding in 1929, Battelle serves the national security, health and life sciences, and energy and environmental industries. For more information, visit www.battelle.org.
Author
Battelle Media Relations
Media Contacts