Challenge
Passive sampling offers an alternative that allows easier and more accurate measurement of the dissolved hydrophobic organic contaminants (HOCs), provides lower detection limits, and eliminates the cost of transporting large volumes of sediment and water samples back to the lab. Of particular concern are the dissolved HOCs present in sediment porewater because they are more available to aquatic organisms than the contaminants bound to sediment particles. Battelle is constantly improving passive sampling technologies and deployment methods to facilitate measurement of dissolved contaminants in sediment porewater, as well as surface water and groundwater.
The Solution
Battelle uses low-density polyethylene (LDPE) sheet-based passive samplers, also known as polyethylene devices (PEDs). These sheets are low cost, robust, and easy to adjust to different sizes and geometries for different applications. PEDs provide a reliable and cost-effective way to measure low levels of HOCs such as polychlorinated biphenyls (PCBs), polycyclic aromatic hydrocarbons (PAHs), chlorinated pesticides, and dioxins and furans. Typically, PEDs are deployed in the field for up to a month. They can be used to measure freely dissolved contaminants in the water column, buried directly in sediment for shallow porewater measurements, or they can be placed in piezometers (screened pipes inserted into the sediment) or monitoring wells when contaminant concentrations in deep sediments or groundwater are of interest.
Battelle has used PEDs for projects for the U.S. Environmental Protection Agency (EPA), U.S. Army Corps of Engineers (USACE) and the U.S. Navy. In one USACE project at New Bedford Harbor, PEDs were used to analyze the flux of contamination across the sediment-water interface. The study results were used to help identify sources of contamination to the water column and food web, and to support remedial design. As part of a comprehensive evaluation of the effectiveness of dredging as a potential remedy, Battelle deployed passive samplers at Great Lakes Legacy Act sediment sites for the EPA. Passive samplers have also been used to assess bioavailability of PAHs from sediments associated with MGP sites.
The Outcome
Because PEDs concentrate the contaminants, they allow lower detection limits than traditional analytical methods for analysis of porewater, surface water and groundwater. They also provide an estimate of average concentrations over time rather than a single snapshot at the time of collection, which makes the results more representative for long-term site monitoring. Because their uptake of contaminants is similar to bioaccumulation of contaminants by organisms, they can provide insight into the risks to local aquatic communities. Development of remediation goals based on freely dissolved concentrations, such as those obtained from passive samplers, decreases the uncertainty associated with whole sediment-based contaminant availability predictions.

Battelle's work has resulted in the development of optimized methods for use of PEDs for assessing and managing contaminated sediments. Battelle has exposed PEDs to contaminated sediments both in the field and in the laboratory and found that the porewater concentrations were equivalent. Laboratory exposures offer an alternative to field deployments in high boat-traffic areas or areas easily accessible by foot where sampler loss during deployment may be an issue. Additionally, laboratory exposures can be conducted in less time and avoid costly field retrieval activities.

Battelle offers comprehensive list of passive sampling services, study design, preparation of samplers, choice of performance reference compounds, deployment and retrieval in a wide variety of environmental settings, laboratory exposure studies, sampler extraction and analysis, and finally data processing and interpretation.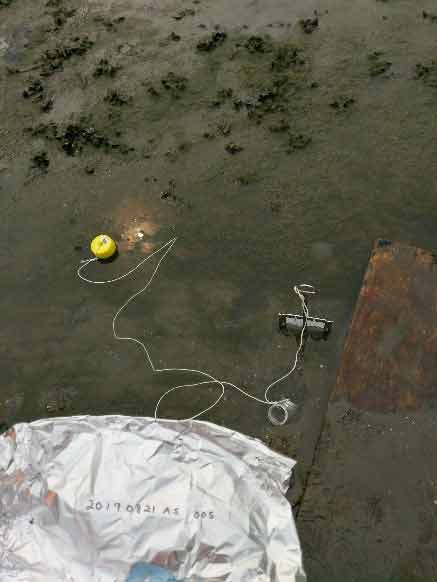 PED deployed in a frame across the sediment-water interface in a streambed for porewater and surface water measurement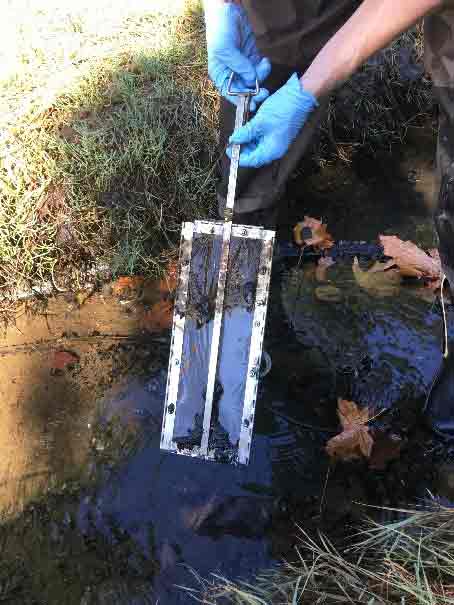 PED retrieved from streambed deployment after 30 days.

PED deployed in a groundwater monitoring well.
Technology Commercialization and Licensing
With over 90 years of research and development experience, Battelle supports all areas of industry with intellectual property licensing focused on bringing our cross-disciplinary expertise to meet our clients' most difficult challenges.