Solution
Hardware and Systems Assurance Solutions
Comprehensive system security requires trust and assurance of critical components in microelectronics. Battelle provides the most up-to-date, non-destructive and rapidly deployable capabilities to help you outmatch the growing complexity of threats.
Connect with an expert
A Serious Challenge to our Nation's Supply Chain
Productive hardware security and software security require that commercial-off-the-shelf (COTS) components and printed circuit boards (PCBs) remain uncompromised. We develop and implement revolutionary microelectronics inspection and security assessments that enhance the safety of the nation's military, as well as civilian critical assets.
Through cyber-physical analysis and data analytics that incorporate AI/ML algorithms, we deliver effective, adaptable, and practical detection and monitoring solutions that quickly find threats, mitigate them and stop others from breaching your architecture.
The Battelle Embedded System Assurance
Eco-System
We ensure microelectronics supply chain security through automated, non-destructive hardware and software solutions that quantify the trust and assurance of COTS PCB assemblies.
Battelle applies tools and expertise to quantify risk throughout the entire platform life cycle for safe introductions of commercially sourced chips, embedded cyber programs and more. We offer the following assurance and monitoring solutions:
Design Phase

Design Assurance Tools
Vulnerability Research and Scalable Analysis

Production Phase

Destructive Analysis
Functional Analysis
Assembly Inspection
Architecture and Advisory Services

Operations and Maintenance

Counterfeit Detection
Cyber Anomaly Detection and Suppression

Ready-to-Use Technologies

Ensure emerging zero trust requirements for the security and safety of current and next-generation systems.
Our End Products and Services Built to Secure Microelectronics
service

Custom Hardware Assurance Services

Authenticate all integrated circuits; eliminate counterfeit or clone devices throughout systems, infrastructure and devices.


product

Authenticate all integrated circuits; eliminate counterfeit or clone devices throughout systems, infrastructure and devices.


product

RAICS analyzes PCB assemblies, quickly assess COTS devices, and receives multimodal image set generation in a single hardware unit solution.


service

Test and Evaluation

Battelle experts help to examine and thoroughly inspect microelectronics to detect vulnerabilities and counterfeit chips through every step of the process.

Government Accountability Organization Report
Title :
Government Accountability Organization Report
Name :
Government Accountability Organization Report to U.S. Senate Armed Services Committee
Position :
Today's weapon systems are heavily computerized, which opens more attack opportunities for adversaries.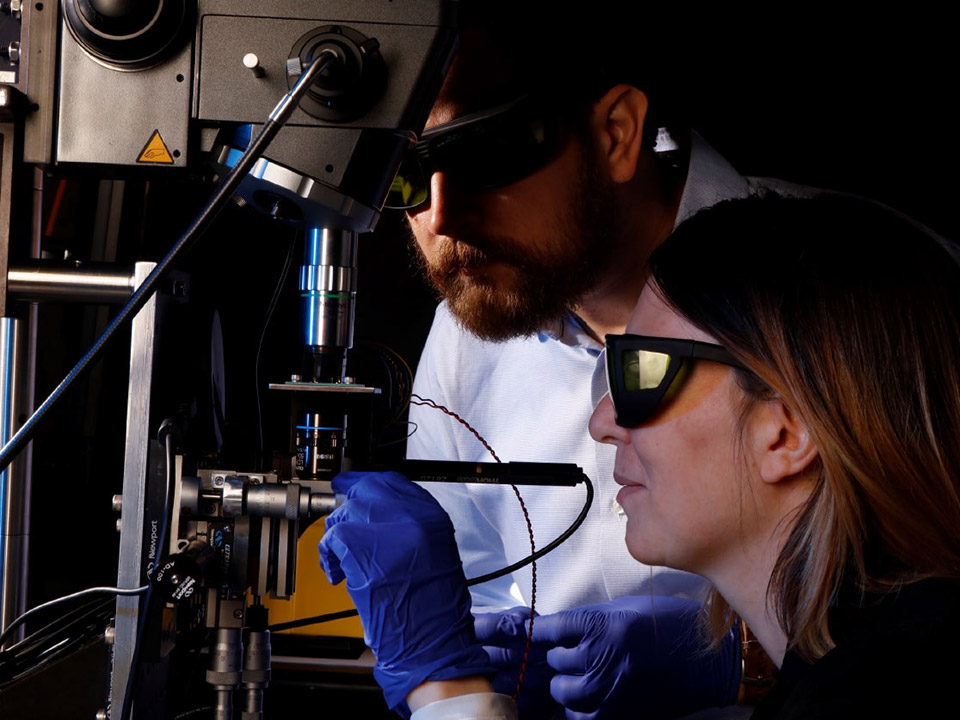 Microelectronics Assurance Laboratory
Battelle's microelectronic security lab houses specialized tools and equipment for destructive and nondestructive device and subsystem characterization, including:
RAICS technology integrated circuit boards
Barricade

™

technology nondestructive counterfeit detection

Scanning optical (SOM) and electron (SEM) microscopy
Focused ion beam (FIB) imaging
Sample preparation
Probe station with laser circuit editing
Wire-bonding
Physical and chemical de-packaging equipment
Adam Kimura, Ph.D

Design Verification Lead

Adam, our Design Verification Lead, guides major microelectronics verification and validation efforts as a principal investigator for Battelle's clients.
Join the Battelle Cyber Talent Community
Continuous innovation is vital to the state of our nation's cybersecurity. Highly-functioning cyber operations rely on always-evolving ideas to parallel with our current expertise. If you're ready to contribute to our global cyber solutions, we want to hear from you.
Join our Talent Community
Technology Commercialization and Licensing
With over 90 years of research and development experience, Battelle supports all areas of industry with intellectual property focused on supply chain assurance including non-destructive, rapid inspection technologies, and full range of risk mitigation solutions.