Solution
Chemical Agent Countermeasures
Inspired to drive impact
Battelle is a global leader in understanding chemical agents and their impact on nations, people, and economies. We conduct secure, state-of-the-art research, development, testing, and evaluation using both highly toxic chemicals and highly pathogenic biological agents.
Connect with an expert
World Class Experts and Facilities
Battelle takes every measure available to lead the world in chemical agent countermeasures. We are home to the largest privately owned enhanced Biosafety Level 3 (BSL-3+) facility in the United States, and we have 5 chemical surety laboratories with 144 linear feet of Chemical Surety hood lines for working with chemical surety material. Here our experts execute the most thorough testing procedures and processes available under stringent quality management systems for providing guiding insights for the most important decisions.
Battelle has vast experience in developing appropriate animal models to evaluate medical countermeasures against biological and chemical threats. We have demonstrated this through the successful licensure of multiple drugs intended for human use that have been approved by the FDA via 'The Animal Rule'. We are able to administer challenge agents and test articles to laboratory species via multiple routes of exposure.
Battelle has a proven track record of developing assays, and putting them through rigorous evaluation in order to qualify and validate their use. This gives the regulatory agencies a high degree of confidence in the robustness of a given laboratory test.
Battelle offers a full suite of services to support the evaluation of medical countermeasures, including clinical observations, pulmonary function, telemetry, Hematology/Clinical Chemistry, Immune response assays, cytokine analysis, transcriptomic analyses, gene expression, proteomics, pathology, LC-MS/MS, LC-UV(FLD), GC-FID, GC-MS, AA, and MINICAMS analyses.
Battelle has developed a number of in vivo and in vitro models systems to evaluate MCMs, and has applied these models successfully to facilitate the licensure of multiple drugs and vaccines via multiple routes of administration.
Battelle offers state of the art in vitro exposure systems for applying vapor and aerosol challenges to complex cell cultures models of the respiratory tract. This model can be used to elucidate the effects of chemicals, infectious agents, and MCMs.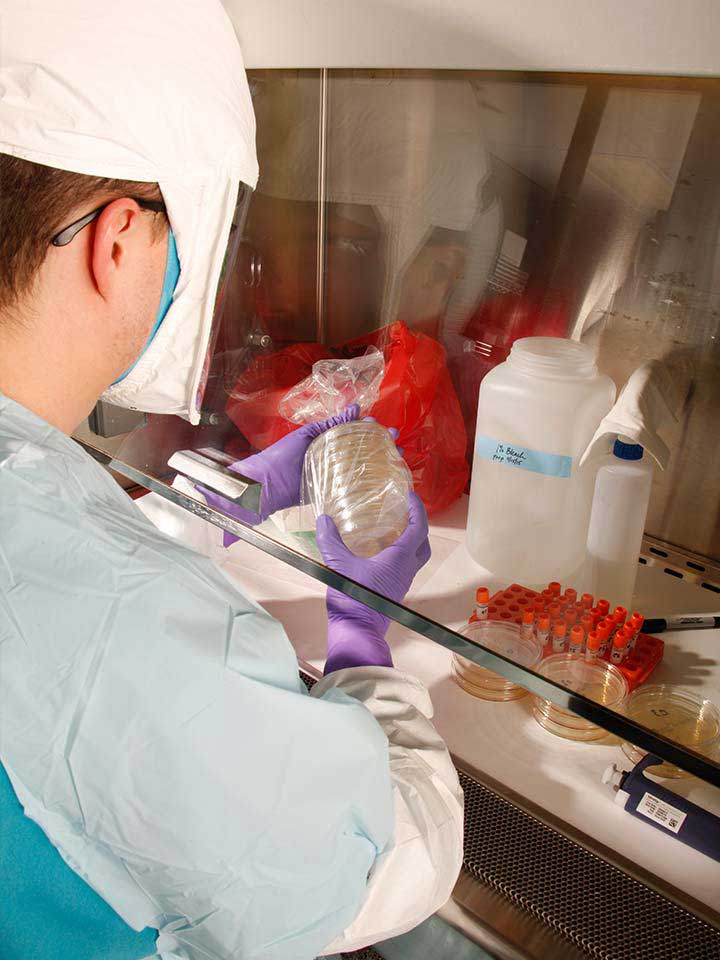 Battelle Biomedical Research Center (BRC)
Battelle's Biomedical Research Center (BRC) contains the largest privately owned Biosafety Level 3 (BSL-3) facility in the United States, and has almost 150 linear feet of chemical surety hood lines to conduct research and efficacy testing of medical countermeasures (MCMs) for biological and chemical defense. This includes prophylaxis, therapeutic, and diagnostic products using all routes of exposure in both large and small models. 
The BRC also conducts secure, state-of-the-art research, development, testing, and evaluation using both highly toxic chemicals and highly pathogenic biological agents for a wide range of government agencies and private sector companies. 
The 200,000+ ft2 BRC complex features:
Biological Defense Research Facility – 92,000 ft2; 22,000 ft2 ABSL-3 containment area with 15 animal rooms and 22 ABSL-3 laboratories; 2 ABSL-2 animal rooms and 8 ABSL-2 laboratories.
Aerosol Exposure Laboratory – Specialized laboratories for generating aerosol exposure challenges of ABSL-2 and -3 threat organisms and highly toxic materials. 
Highly Toxic Materials Laboratory – 77,000 ft2 area consisting of 29 ABSL-2 animal rooms; 15 laboratory areas with 144 linear feet of filtered chemical fume hoods for working with neat (pure) chemical warfare agents.
Biosafety Level-3 (BSL-3) and Level-2 (BSL-2) Laboratories
Battelle's highly specialized laboratories and equipment enhance the quality and value of our work for faster, more reliable results. Battelle's 22,000 square feet of BSL-3 laboratory and holding space boasts the largest private BSL-3 containment laboratory in the U.S. It includes 15 BSL-3 animal rooms and 24 BSL-3 wet labs for in vitro work, including an Aerosol Research and Component Assessment (ARCA) chamber, designed to expose complete biological identification systems to viable select agents. We also have 30 BSL-2 animal rooms and 17 BSL-2 labs. Both our BSL-3 and BSL-2 labs contain:
Exposure suites with multiple Class III biological safety cabinets (BSCs)
Multiple rooms are hardwired for telemetry and available for multi-study monitoring
Bacteriology laboratories
Dedicated fermentation laboratories
Virology labs
Dedicated tissue culture laboratories
Aerosol testing and exposure laboratories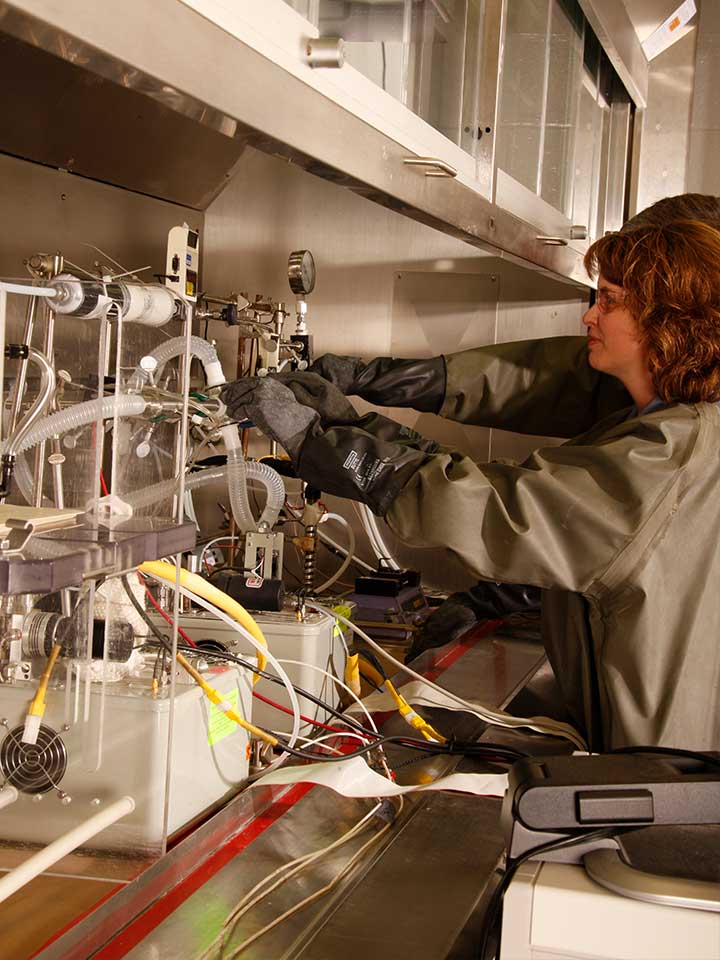 Related Solutions
solution

Battelle applies focused planning, research and expertise to fortify our infrastructure by rapidly developing testing kits, innovative surveillance mechanisms, advanced therapeutics, and new vaccines.

solution

Battelle operates the world's largest non-governmental containment laboratories that help clients deliver life-saving diagnostic and therapeutic solutions.

solution

Take advantage of Battelle's portfolio of long-proven and leading-edge chem-bio technologies, or leverage our operational expertise and advanced manufacturing capabilities for developing all-new chem-bio detection, protection and decontamination equipment.