Service Solution
Regulatory Support
Battelle helps you smartly navigate the registration process with confidence, reduce risks and reach new international markets. Our full range of regulatory services are designed to drive your crop protection, biological, and biopesticide to market quickly and efficiently.
Connect With an Expert
Getting your smart-sustainable solutions and products to market
Battelle has a long-standing reputation in the U.S. and Europe for being a trusted partner in regulatory affairs. We provide innovative full-scale registration and re-registration support, as well as expert advice in dossier compilation for conventional crop protection products and biologicals. Our work is supported by a team of multidisciplinary scientific experts with complementary skill sets and various backgrounds from the crop protection, contract research, and regulatory consulting industries and national authorities – guaranteeing a 360-degree expert solution.
Regulatory Affairs
We integrate industry-leading scientific lab work and deep knowledge in international regulatory requirements to help you accelerate product registration and re-registration.
Connect with an expert
Risk Assessment
Battelle helps you to meet health and safety regulatory standards and minimize exposures by providing reliable and defensible data for both standard and higher-tier risk assessments.
Connect with an expert
Environmental Modeling
Battelle matches fast, accurate computer modeling with ample expertise in a broad spectrum of computer models and databases to identify key data that can advance the registration of agrochemicals.
Connect with an expert
Taskforce Management
We bring vast regulatory experience and project management support to ensure our clients' success. We combine decades of experience with molecules, ecotox and toxicology, analytical chemistry, and modeling to deliver specialized client solutions.
Connect with an expert
Project Management
We ensure quality, communication and efficiency when it comes to scope of both regulatory and testing programs Our team can conduct the GAP analysis, source the studies needed for registering an active ingredient and support the preparation of registration dossiers.
Connect with an expert
Battelle has some of the best experts in regulatory exposure modeling that you can find.

Head of Environmental Exposure

A multinational agrochemical company
Aged Sorption
Battelle offered consultancy and dataset analysis for the recently approved guidance on Aged Sorption guidelines as a higher tier option for groundwater assessment. This is a useful refinement option for pesticides and metabolites that currently fail the groundwater assessment.
Connect With an Expert
Andy Hoare

Head of Regulatory Affairs

As the Head of Regulatory Affairs, Andy brings extensive experience in biocide dossier preparation, NONS applications, and chemical regulation, especially in bulk chemicals and agrochemicals. In 2000, he joined a leading CRO to assist with regulatory applications. He gained further regulatory experience in a succession of positions in three large generic companies. He holds a degree in Biochemistry.

Tim Lane, Ph.D.

Chemical Engineer

As Principal Research Scientist, Tim uses his vast expertise in aerosol physics modeling and laboratory and field-based measurements to evaluate the transport and fate of aerosol particles. He focuses on extending aerosol studies from Department of Defense applications to new clients, including those in the oil and gas and agricultural industries. Tim is proficient in aerosol measurement and generation equipment including optical particle counters and gravimetric mass instruments.
Crop Protection Solutions
From bioformulation and biotechnology to physical chemistry analyses and regulatory support, Battelle provides a full range of innovative solutions to help agrochemical developers and producers meet regulatory requirements and quickly bring new products to new international markets.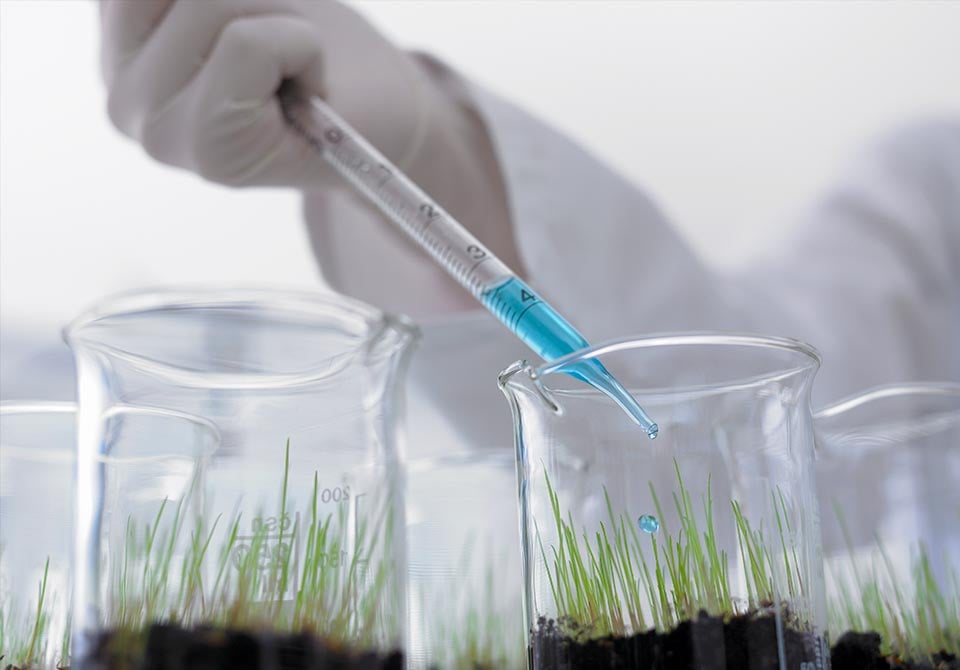 Related Service Solutions
service

Safely and reliably test complex materials in collaboration with Battelle scientists and technical experts using world-class testing facilities.

service

Solve complex environmental fate projects with Battelle's precision farming methods.

service

Fast-forward your agricultural formulation development schedule and enter into new markets in Europe and North America.